"Mike and I had arrived in Jerusalem three weeks before the intifada broke out: enough time to get out our bearings, see the major sites and find the best place for baklava.
Then the city turned into a pinball machine where the pellets were propelled by slingshots, automatic rifles and long-range rocket launchers..."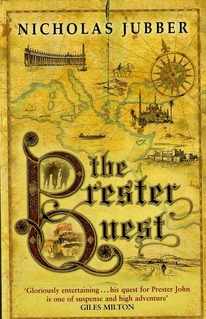 Winner of the Dolman Travel Book Award 2006
In 1177, Pope Alexander III wrote a letter to the Priest-King of the Indies, Prester John. As his emissary he chose his physician, Master Philip. No one knew where the legendary monarch's kingdom lay (or indeed whether he even existed) but that wasn't going to hamper the mission. Master Philip set out from Venice...and was never heard of again.
Whilst teaching at a school in Jerusalem, I came across a copy of the pope's letter. Together with my friend Mike, I hatched a plan: to complete Master Philip's mission and deliver the letter, albeit eight hundred and twenty four years late.
Setting off from Venice, we made our way around the Eastern Mediterranean world, returning to the Holy Land en route to the medieval geographers' Terra Incognita. Travelling by bus, boat and barouche, train and tractor-drawn cart, we tramped through the desert of Nubia toward the heart of a medieval African empire.
Read an extract.
Reviews for the Prester Quest
"Having read The Prester Quest almost at a single sitting, I think I can say without fear of contradiction or a libel suit that Nicholas Jubber is full of it. But his is the most passionate, exuberant and charming kind of 'it', and his account of his travels in search of - well, in search of something - is a delight... It is an engrossing and highly enjoyable read..a sumptuous, entertaining and informative historical romp."

The Spectator
"Jubber's search for the legendary priest-king Prester John is quixotic to the point of madness. But his is an inspiring madness, bright with medieval fervour for the obscure, yet softened by scepticism and unflagging humour."

Independent on Sunday

"Jubber's historical romp takes some beating...a cracking idea, and one perfectly suited to Jubber's enthusiastic - if occasionally eccentric - sense of adventure. The result is a glorious mixture of arcane historical facts, intriguing trivia and memorable encounters. I enjoyed it hugely."

Yorkshire Evening Post
"A noble scholarly quest, or a comic Da Vinci Code, or a sort of Bill and Ted do the Crusades. Much fun!"

Hampstead and Highgate Express
"...this is a significant début from a writer who can deliver both serious historical research and entertaining escapades with credibility and passion."

Anthony Sattin, author of The Gates of Africa